Communicate With is the communications projects space of The Strategy Cafe.
We help clients create quick, simple, cost effective communications solutions to meet a range of needs. We have developed many of our projects just for fun or as "proof of concept" and to help stimulate thinking about Marketing and Communications and as part of our facilitation, coaching and mentoring activities.
Communications, Publications, Design and Print Management
We have significant experience in marketing, corporate communications, publications, design management and print production.
We have managed substantial print projects including the development of high impact leisure publications, public facing and internal newsletters, informational publications and more.
We have also created quite a few "stage one" websites.
Our internet projects have included the development of a number of "Stage One" web sites for colleagues and friends in the Arts, Training,Consultancy, Recruitment, Property and the Social Economy sectors.
Our recent developments include highly scalable, user manageable sites based on the latest open source Content Management Systems – Drupal, Joomla and WordPress.
WordPress is now our firm favourite.
If you have a communications issue, whether spanning internal communications, external communications, marketing, strategy or change, we may be able to help.
We have managed Marketing, Communications, Design, Print and much more.
You can find out more on our sister site – The Strategy Cafe.

BE CLEAR ABOUT WHO YOU ARE AND WHAT YOU ARE OFFERING!

BE CLEAR WHO YOU ARE TRYING TO TALK TO

BE CLEAR WHAT YOU ARE TRYING TO SAY

BE CLEAR WHAT YOU WANT THEM TO DO ABOUT IT!
With our help you can create a clear concise communications strategy, website, content strategy and more. Whether your project is large or small we can help. We have what you need to get your communications project up and running whether it is new web presence you need up and running in no time or a large multi-faceted communications or change project. Contact us now.

At The Strategy Cafe we coach and mentor for success. If you want to know more do get in touch!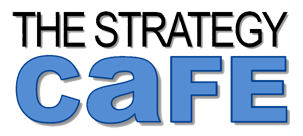 WANT TO KNOW MORE?
We are only a click away!